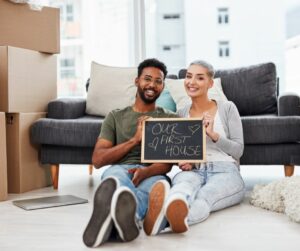 The typically buoyant housing market in the UK is undergoing a troubled time at the moment, hit by the Covid pandemic and the cost of living crisis. But could this be a good thing for first-time buyers?
According to a report by Halifax, house prices in the UK fell by 2.3% in November 2022, the largest monthly drop since the financial crash began in 2008. This fall is the third in a row, with the average house price in November being £285,579, down from £292,406 in October.
House price growth
In November, the annual rate of house price growth slowed to 4.7%, down from 8.2% in October. This slow to the rate of annual growth occurred in all areas of England, except from the north-east, with similar slowing in Northern Ireland, Scotland and Wales.
People selling their homes have typically had to settle for below the asking price in recent weeks, according to property website Zoopla, which is predicting house prices will fall by about 5% in 2023.
The current market conditions could result in fewer buyers competing with one another, allowing more room for negotiation with sellers.
Sellers exiting the market
It is also important to remember that sellers, as well as buyers, are deciding now is not the right time to conduct a transaction and have been exiting the market.
That means those that are listing their homes for sale now are likely to be doing so because they absolutely have to. This means that they may well be more likely to accept offers below the asking price.
First-time buyers are usually on a tight budget so do not have cash to spare to cope with fluctuating mortgage payments, which is why a fixed-rate mortgage tends to be the sensible option.
Others argue that those who are buying a home to live in for five years or more could potentially ride out the price fluctuations.
Dramatic falls unlikely?
Although many recent surveys have suggested prices will fall, none seem to be saying they will drop dramatically, but more likely gradually, over the next one to two years.
However most surveys say values will pick up again in two to three years' time, so if you are in the position to, now may be a good time to take the plunge and buy your first home.
It is important to get the very best advice if you are thinking of buying a property.
PowellsLaw offers advice on Help to Buy, shared ownership, cohabitation agreements, and protecting parents' financial interests if they fund the deposit.
For legal advice or to arrange a no obligation free appointment to talk through your requirements, call 01934 623 501 or email helpforyou@powellslaw.com